To submit an announcement, please email [email protected].

MOUNT HOLLY NEWS FLASH
Sign up for the Mount Holly News Flash to receive news about the town. Email [email protected] to be added to the list. Or check mthollynewsfla[email protected] to see all announcements compiled in one place.

News items deadlines are 6 am and 6 pm.
______________________________________________________________________________
NOTICE OF ADOPTION OF AMENDMENTS TO ORDINANCE REGULATING OUTDOOR STORAGE OF JUNK AND JUNK VEHICLES IN THE TOWN OF MOUNT HOLLY
The below amended ordinance was adopted on May 9, 2023, at a Regular Select Board Meeting, and will become effective 60 days after its adoption by the Select Board unless voters of the town petition for a permissive referendum in accordance with 24 V.S.A. § 1973.
Mount Holly voters are hereby advised that an ordinance or rule adopted by a municipality may be disapproved by a vote of a majority of the qualified voters of the municipality voting on the question at an annual or special meeting duly warned for the purpose, pursuant to a petition signed and submitted in accordance with 24 V.S.A. § 1973. Such a petition for a vote on the question of disapproving an ordinance or rule shall be signed by not less than five per cent of the qualified voters of the municipality, and presented to the legislative body or the clerk of the municipality within 44 days following the date of adoption of the ordinance or rule by the legislative body.
Town Holly residents may review the full text of the ordinance below, at the Mount Holly Town Office, Mount Holly Post Office, Belmont Post Office, Mount Holly Library, and Belmont Store.
Questions may also be submitted to the Mount Holly Select Board at [email protected], via mail at P.O. Box 248 Mount Holly, VT 05758, or by calling (802) 259-2391.
NEW TRANSFER STATION HOURS
RUTLAND COUNTY SOLID WASTE DISTRICT EXTENDED OUTREACH PROJECT
DOG CENSUS NOTICE
OFFICIAL ANNUAL TOWN AND SCHOOL DISTRICT MEETING BALLOT RESULTS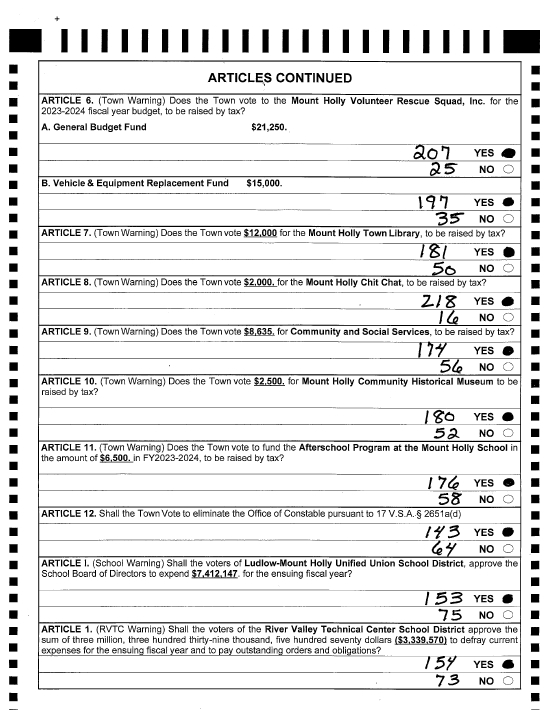 SWAP SHED DONATION GUIDELINES