TRANSFER STATION PRECAUTIONARY MEASURES:
(click here to print)
Transfer Station and COVID-19
The Town of Mount Holly Select Board has reviewed information from the Vermont Department of Health, the Centers for Disease Control and Prevention (CDC) and Vermont Emergency Management (VEM) with regard to the current COVID-19 Pandemic.
The health of our employees and residents is a top priority for the Town of Mount Holly. Effective immediately and until further notice, the Select Board is imposing the following procedural changes to protect against exposure to COVID-19 at the Transfer Station.
The Transfer Station is requiring the following due to COVID 19:
If you have symptoms of COVID-19 (fever, cough and difficulty breathing) please DO NOT use the Transfer Station.
Employees have been instructed to refrain from coming into direct contact with other employees, residents, and trash/recyclables.
Residents are required to place their sticker on the trash bags. Please do not hand stickers to town employees.
Residents are required to load their own waste into the trash and recycling compactors. If you cannot lift the bag by yourself please divide the trash/recyclables into multiple bags.
Residents are reminded not to congregate at the Transfer Station and to exit the facility once they have disposed of their trash and recycling.
Swap Shed is CLOSED until further notice.
General Reminder:
Plastic bags ARE NOT allowed in the single stream recycling.
One sticker is for a bag that holds 30 gallons or less.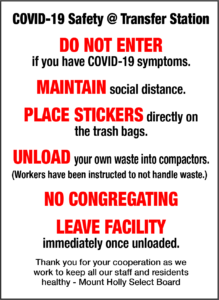 ______________________________________________________________________________
Fall/Winter Hours: Saturday 8:00 a.m. – 2:00 p.m.
Sunday 9:00 a.m – noon
Spring/Summer Hours: Saturday 8:00 a.m. – 2:00 p.m. & Wednesday 4:00 – 7:00 pm.
The Transfer Site is located on Sharon Lane, just off Gates Road.
Dump stickers may be purchased at the town office during office hours or by mail. Those choosing to purchase by mail please include a self addressed, stamped envelope with your order or add 50 cents for postage.
Important Information on Solid Waste Sticker Sales
Transfer Station Recycling Info, Electronics & Special Waste Disposal Fees
Click HERE for information about using the District Solid Waste transfer site on Gleason Road in Rutland.