"Stay Home/Stay Safe"
Executive Order Issued by Governor Phil Scott
In Effect as of Wednesday, March 25th at 5:00 pm
Vermonters are directed to stay at home or in their place of residence, leaving only for essential reasons such as:
personal safety;
groceries or medicine;
curbside pick-up of goods, meals or beverages;
medical care;
exercise;
care of others;
work (in exempted services only)
Vermonters shall significantly restrict normal activities outside the home or place of residence.
In Effect until April 15, 2020
(All of Governor Scott's Executive Orders can be found here: https://governor.vermont.gov/document-types/executive-orders)
Mount Holly Town Office Closed to Public Until Further Notice
Due to the Coronaviris (COVID-19) and out of an abundance of caution for the health of all our residents and town officials, the Mount Holly Town Office will be closed to the public until further notice.
Town Clerk Sue Covalla will be available by phone (802-259-2391), email ([email protected]), and via the USPS (PO Box 248, Mount Holly) during her normal business hours of Monday through Thursday 8:30 am to 4:00 pm. Town Treasurer David Johnson will be available at 802-259-2391 during his normal hours of Monday mornings and Wednesday afternoons. Please call or email with any questions or concerns. Public record research will be by appointment only.
Dog license renewals are due by April first. These can be renewed by mail. Send a copy of the rabies certificate (or call Sue if a current rabies certificate is already on file), and send a check in the correct amount: for Neutered Dogs, $11.00; for Unneutered Dogs, $15.00. Tags will be mailed to you. Late fees for renewals made after April first but by April 30th will be waived.
Transfer station stickers can be ordered through the mail. Cost is $2.00 per sticker. Send a check for the desired number of stickers, and Sue will mail them to you.
Thank you for your cooperation and understanding as we navigate through this pandemic together with the continued good health of our community as our primary concern.

Town of Mount Holly COVID-19 Precautionary Measures & Information:
(click here to print)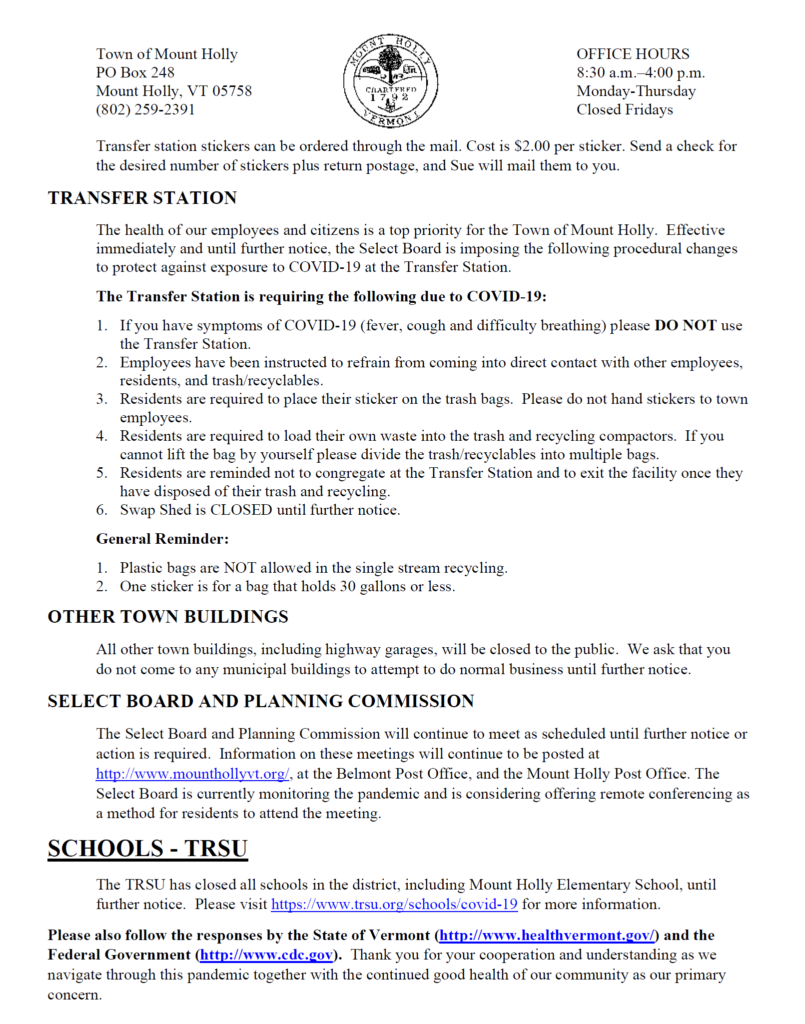 Coronavirus – COVID 19 Reminders
DO the FIVE to Help Stop Coronavirus:
1.HANDS Wash them often
2. ELBOW Cough into it
3. FACE Don't touch it
4. FEET Stay more than 3ft apart
5. FEEL sick? Stay home
For additional information, see the World Health Organization website: https://www.who.int/emergencies/diseases/novel-coronavirus-2019/advice-for-public
Also see the Town's webpage: http://www.mounthollyvt.org/coronavirus-covid-19/
MOUNT HOLLY TRANSFER STATION
SPRING & SUMMER HOURS
Effective
APRIL 1st
WEDNESDAYS, 4:00 pm to 7:00 pm
SATURDAYS, 8:00 am to 2:00 pm
Last Sunday is March 29th (9:00 am to 12 Noon)
First Wednesday is April 1st
REMINDER: STICKERS ONLY, NO CASH!
ELECTION RESULTS:
All Ballot Articles Passed.
For Select Board Member (the only contested race): Jeff Chase received 281 votes, Ron Tarbell received 215 votes.
Voter Turnout in Town was 49%!
For Annual Town Meeting Warning click here.
Democratic Presidential Primary Election Results: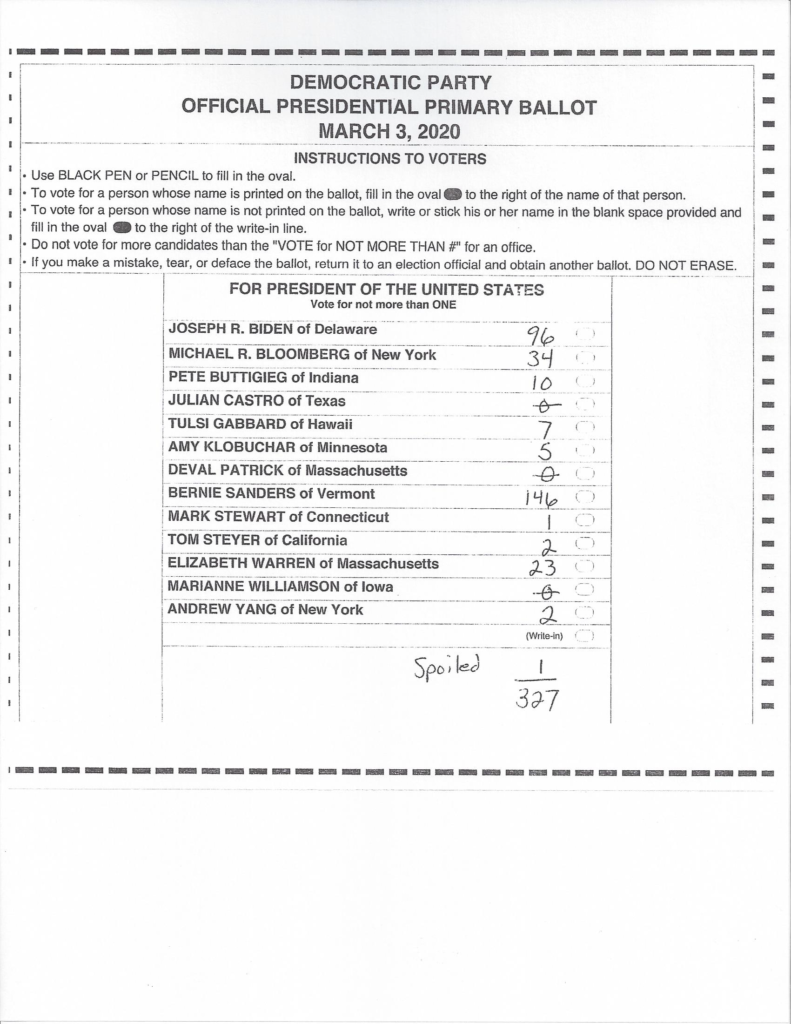 Republican Presidential Primary Election Results:
Donald J. Trump – 166 votes
Bill Weld – 8 votes
Blank Ballot – 1
Mount Holly's
Local Hazard Mitigation Plan
Needs to be Updated!
Interested in Helping?
3-4 evening meetings of about 2 hours each
will be needed
If interested, or questions, email Select Board Chair
Mount Holly
SWAP SHED
(temporarily closed due to COVID-19)
Good to Excellent Quality Reusable Goods Only
No Clothing
No Electronics
Keep it Neat!
If unsure about an item for the Swap Shed, ask Kevin or Pete.
No Junk! NO Junk! NO JUNK!
Happy Swapping!
Green Mountain Passport Program