Green-Up Day is May 30th
Given all the rules this year about covid I'm trying this so everyone can
sign up for their roads here.
https://docs.google.com/…/1DTBsMoSX_I58mPyLd01c2uzbSf…/edit…
If on mobile device open in browser, click pencil in right hand corner to edit.
Please put down how many people will clean up with you and estimate the number of bags you expect to use.
Bags will be available the week of Green Up in front of the General Store.
No one in the store has any information on Green Up so please call me with any questions.
Let me know if something isn't working so that can be addressed.
It's all trial and error and I appreciate your help with the page and Green Up
Peace
Marianne
TRANSFER SITE REQUEST
As There is a State-wide BAN ON BURNING until May 30th,
Please HOLD OFF On ADDING Any More BRUSH
TO THE Too Large BURN PILE at the Transfer Station.
Thank You!
Mount Holly Town Office Closed to Public Until Further Notice
Due to the Coronaviris (COVID-19) and out of an abundance of caution for the health of all our residents and town officials, the Mount Holly Town Office will be closed to the public until further notice.
Town Clerk Sue Covalla will be available by phone (802-259-2391), email ([email protected]), and via the USPS (PO Box 248, Mount Holly) during her current business hours of Monday through Thursday 8:30 am to 4:00 pm. Town Treasurer David Johnson will be available at 802-259-2391 during his normal hours of Monday mornings and Wednesday afternoons. Please call or email with any questions or concerns. Public record research will be by appointment only.
Dog license renewals are due by April first. These can be renewed by mail. Send a copy of the rabies certificate (or call Sue if a current rabies certificate is already on file), and send a check in the correct amount: for Neutered Dogs, $11.00; for Unneutered Dogs, $15.00. Tags will be mailed to you. Late fees for renewals made after April first but by April 30th will be waived.
Transfer station stickers can be ordered through the mail. Cost is $2.00 per sticker. Send a check for the desired number of stickers. Please enclose a return envelope or an additional $.50 to cover the cost of postage. Sue will mail the stickers to you.
Thank you for your cooperation and understanding as we navigate through this pandemic together with the continued good health of our community as our primary concern.
MOUNT HOLLY TRANSFER STATION
SPRING & SUMMER HOURS
Effective
APRIL 1st
WEDNESDAYS, 4:00 pm to 7:00 pm
SATURDAYS, 8:00 am to 2:00 pm
REMINDER: STICKERS ONLY, NO CASH!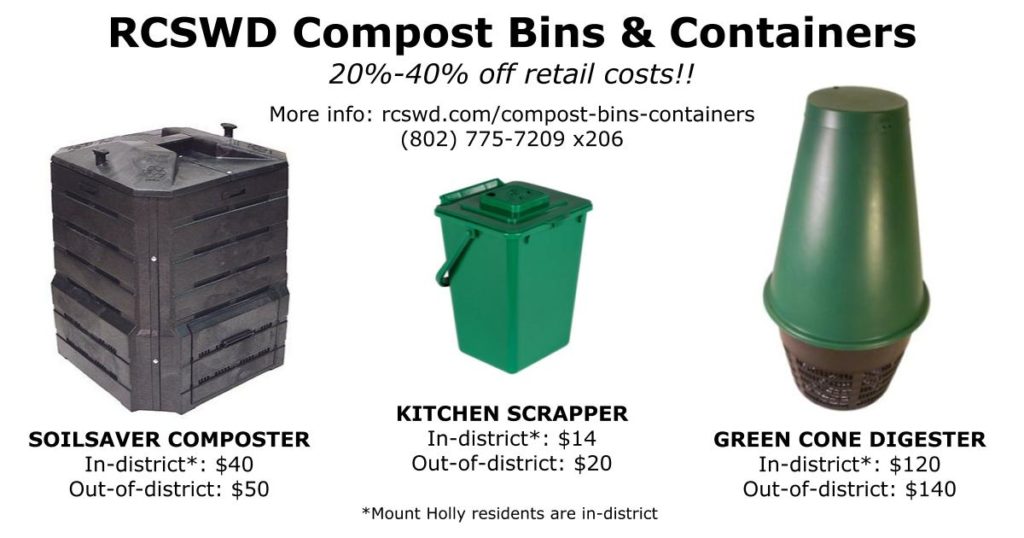 For more information, click here
Rutland County Solid Waste District Regional Transfer Station
at 14 Gleason Road
currently accepting
ONLY trash, recycling and food scraps
Consistent with the Governor's Executive Order 01-20,
the following materials will not be accepted:
-Hazardous Waste (including, but not limited to: paint, batteries, mercury-containing bulbs/devices, motor oil and other auto fluids, pesticides, chemicals, etc.)
-Scrap Metal, Electronics, Freon-containing appliances, Tires, Books, Clothing & Shoes and other donations
-Other materials up to the attendant's discretion
Regular operating hours are in effect.
Additional requirements for facility use:
DO NOT ENTER if you have COVID-19 symptoms or possible exposure
WEAR A MASK when using the facility
MAINTAIN SOCIAL DISTANCE– at least 6' from other people
UNLOAD YOUR OWN WASTE– employees have been instructed to not handle waste
NO CONGREGATING– leave facility once unloaded
PROVIDE CHECKS OR EXACT CASH for payment
"Be Smart/Stay Safe"
Executive Order Issued by Governor Phil Scott
In Effect until Monday, June 15th
(All of Governor Scott's Executive Orders can be found here: https://governor.vermont.gov/document-types/executive-orders)
Coronavirus – COVID 19 Reminders
To Help Stop the Spread of Coronavirus:
STAY HOME: Leave only for essentials & avoid close contact with others
COVER MOUTH & NOSE: Wear a mask or cloth face covering in public settings
PRACTICE SOCIAL DISTANCING: Stay more than 6ft apart
WASH HANDS: Wash them for 20 seconds & wash them often
CLEAN SURFACES: Disinfect frequently touched surfaces
COMING TO VERMONT? Quarantine at residence for 14 days
FEEL SICK? Stay home
For additional information, see the World Health Organization website: https://www.who.int/emergencies/diseases/novel-coronavirus-2019/advice-for-public
Also see the Town's webpage: http://www.mounthollyvt.org/coronavirus-covid-19/
ELECTION RESULTS:
All Ballot Articles Passed.
Voter Turnout in Town was 49%!
For Annual Town Meeting Warning click here.
Democratic Presidential Primary Election Results: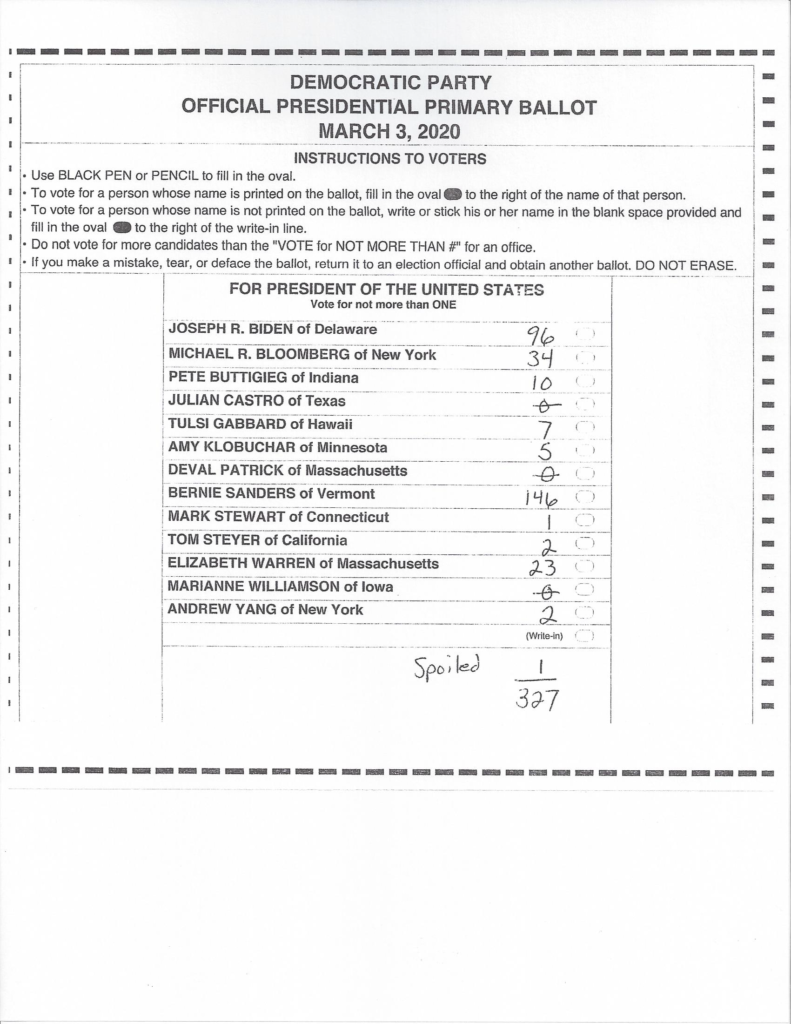 Republican Presidential Primary Election Results:
Donald J. Trump – 166 votes
Bill Weld – 8 votes
Blank Ballot – 1
Mount Holly
SWAP SHED
(temporarily closed due to COVID-19)
Good to Excellent Quality Reusable Goods Only
No Clothing
No Electronics
Keep it Neat!
If unsure about an item for the Swap Shed, ask Kevin or Pete.
No Junk! NO Junk! NO JUNK!
Happy Swapping!
Green Mountain Passport Program